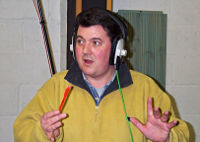 RSVP VOICES was founded in 2002 by Rob Johnston in response to many requests from within the industry to provide the highest quality of choir/singer for various film/TV soundtracks, CD recordings, concerts and corporate events. We also work closely with several library music companies, either recording new music or licensing existing recordings. We are proud of our reputation in the industry as we pride ourselves on providing our clients with an exemplary service and the best possible singers to create an outstanding product every time. Each of our client's projects is unique and therefore we understand the need for and are able to provide them with an unrivalled product.
ROB JOHNSTON has been singing in professional choirs since the age of 7! He started as a chorister in Salisbury Cathedral Choir, appearing on many record and television recordings, often as a soloist. He subsequently studied singing at the Royal Academy of Music, gaining LRAM's in both teaching and performance, and a IIi honors degree. In 1995 he was appointed as an ARAM.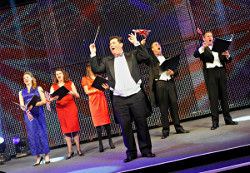 Rob has sung with a vast array of professional choirs and ensembles, from West End Musicals and Barber Shop to Early Music and Opera. These include: The Tallis Scholars, The Sixteen, The Monteverdi Choir, The Gabrielli Consort, The King's Consort, St Paul's Cathedral Choir, Westminster Abbey and Cathedral Choirs, The BBC Singers, The John MaCarthy Singers, The Nigel Brook Singers, Five Live, Flash Harry and the City Slickers, and in many of his own choirs. These engagements take him all over Europe, North and South America, The Middle East, South Africa, Sri Lanka, South Korea, Japan and Australia.
Rob has also made innumerable recordings, both classical and musical theatre, and can be heard on a vast array of films and television programmes. He has also recorded with artists such as: Elton John, Sting, Jarvis Cocker, Il Divo, Labrinth, Jonathan and Charlotte, Susan Boyle, Robin Gibb, Jai MacDowell, Dusty Springfield, Mike Oldfield, The Opera Babes, Gregorian, Jackie Evancho and Keedie.
As a conductor, Rob conducts RSVP VOICES regularly in studio recordings, including the choir on Robin Gibb's Titanic Requiem CD, the recording for the worldwide arena tour of Peter Pan, Jonathan and Charlotte's debut album, Britain In A Day (BBC TV) and in June 2012 conducted 60 members of RSVP VOICES and 120 members of The Royal Choral Society together for the "East Meets West" concert at the Royal Albert Hall in front of Prince Andrew with the RPO, Lang Lang and Andrea Bocelli. Rob was honoured to be invited to conduct RSVP VOICES at the funeral of former Bee Gee, Robin Gibb.